What are Google Local Services Ads?
A big question law firms ask themselves when looking into digital marketing is:
What's the difference between SEO and PPC and which medium should my law firm be using? SEO stands for Search Engine Optimization which is the organic way of increasing traffic to your site through best practices. PPC, or Pay-Per-Click, is paid digital advertising. 
Using paid ads can help your law firm increase its footing in your market or niche. It's a way to boost visibility and generate potential leads. However, it is critical to understand that along with a well planned PPC campaign, your firm's marketing strategy should also include a robust maintenance of SEO on a site.
Pay-Per-Click, as the name implies, is what Google Ads are. This is a service which the advertiser, your firm in this case, would pay for if someone were to click on an ad. There's another way to get your name out there and depending on your niche or market it might be more effective and budget-friendly. Queue Google Local Service Ads, i.e. LSAs.
Google Local Services Ads vs. Traditional PPC
Google Local Service Ads work similarly to Google Ads. But, there are major differences you need to know about before deciding which to choose for your law firm. Google LSA's work through lead generation whereas Google Ads are paid for each time someone clicks on an ad, regardless of if that click called or retained your services. With LSAs, you pay every time an ad generates a lead. 
To better explain the difference, let's look at an example of an actual search query.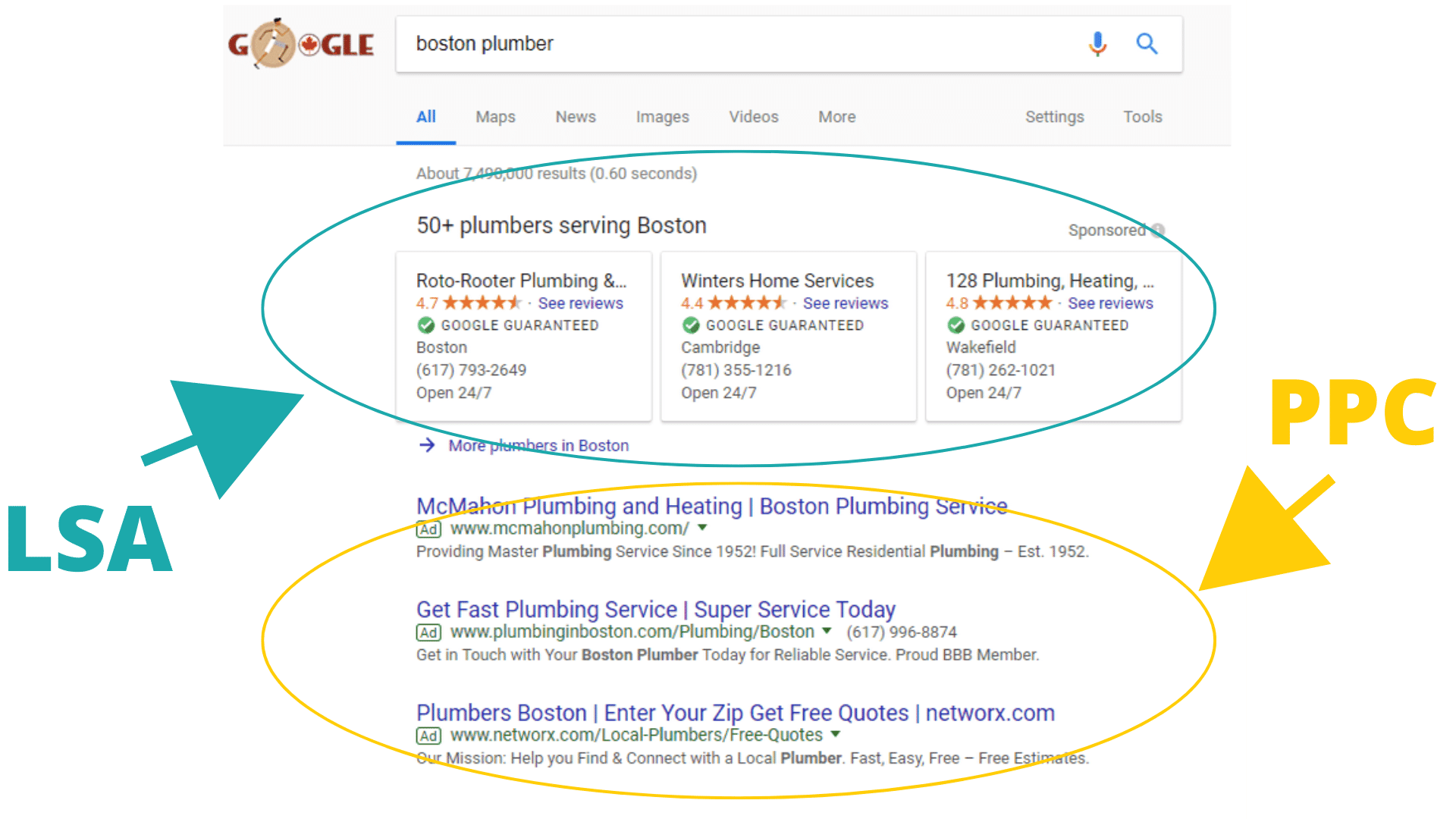 Google Local Service Ads always show up first. There will be some search terms where they won't show up at all, for example when you're not looking up a 'Local Service.' In this case, if you looked up 'Boston plumber' the LSA would show up first, followed by a Google Ad (PPC).
Ranking in Google LSA vs PPC 
How a business ranks in Local Service Ads is a detail that distinguishes Google Ads (PPC) from Google LSAs. With PPC, a person bids on a set of keywords. For example, a higher populated area like Phoenix or Miami will see higher bids on Personal Injury terms, and thus a high cost per click. On the other hand, a suburb of these towns might not see such a demand for the same keywords given the population and or demand. 
Google LSAs have a different ranking system than traditional PPC. The first thing to note is location. Google LSAs are based upon local searches. A family law attorney can have their LSAs run throughout their state, but within their city, they will rank higher. Next is the review count and review quality of a firm. If a firm has plenty of reviews and they average above 4.5 stars then they'll likely be at the top of the food chain as it pertains to Local Service Ads. Lastly, the response rate of potential lead influences where your firm might rank on the list. Therefore, if Local Service Ads are generating a lot of calls but you're not picking up the phone then you are setting yourself up for failure through the eyes of Google. 
Google's algorithm is notoriously a well-kept secret. There are many other factors that influence ranking in Local Services, Google Ads, and organic search results. The few details outlined above might be the ones that carry the most weight. 
Could your firm benefit from Google Local Services Ads?
Is your law firm looking for more clients? If your answer to this question is a resounding, YES! then you should consider starting Google Local Service Ads for your firm. 
If you're interested in learning more about Google Local Service Ads for your law firm, then Green Cardigan Marketing can help! Contact us today.