Instagram has become one of the most popular social media platforms to date. As of November 2020, more than 130 million Americans are on Instagram with each user spending an average of 26 minutes a day on the app. While Facebook remains king (Facebook is still the top social network in the United States, with 169.76 million mobile users accessing the Facebook app in September 2019) it is imperative your law firm connects with potential clients and colleagues through Instagram.
What should lawyers post on Instagram?
Build brand awareness by interacting with your local community.
Through the use of Instagram posts, stories and IGTV; interact with your local community as authentically as possible. If you're comfortable posting selfie videos, open up the app and begin talking! As you begin to talk, think with the user in mind. What would someone in your community want to learn from you?
Promote and highlight your staff!
As we work with attorneys on a daily basis, we have first-hand experience in how talented and personable associates and paralegals can be. Use your staff to your advantage through the eyes of your Instagram followers. Shout-out your team members birthdays, work anniversaries, Christmas parties (post COVID era, of course!), etc. Interview your staff members and post their quirky, but candid answers. Remember, social media is the land of transparency.  
Highlight your wins!
When you or your team wins a case, promote it! Share a video of your client (with their permission and proper ABA disclaimers) singing your praises, post a selfie of your team celebrating, etc.
No one does this better than Criminal Defense Attorney Molly Parmer of Atlanta, GA. Molly isn't shy to celebrate her wins as well as promote her strengths through the social media platform. She showcases her personality, professionalism and experience better than most!
How to sell your firm through your Instagram Bio
1. Optimize your Instagram
Think of your Instagram bio as the nametag you wear at a networking event. Your name is how people will remember and (hopefully) search you. Therefore, include a word or phrase relevant to what you do in your name (Law, lawyer, attorney, etc. – or in our case, "Marketing")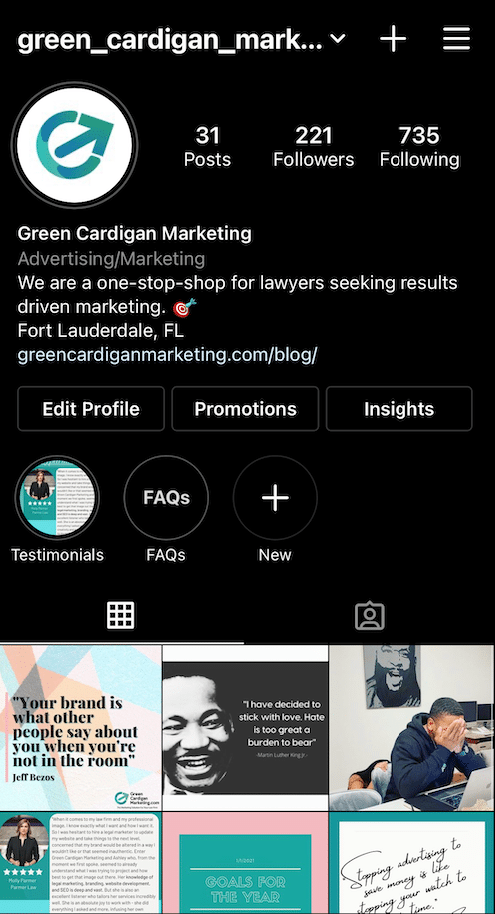 2. Don't be shy!
Promote yourself and highlight your skills. Potential clients are looking for an attorney who can assist them during what might be the greatest crisis in their life. Your Instagram account is a way to shamelessly promote your skillset. 
3. Add your contact info.
With a business profile, you can add your contact info directly in your bio to ensure potential clients have an easy way to contact you or your staff.
4. Be creative and have fun!
If social media is the land of transparency, Instagram bios are prime real-estate for emojis! Authenticity is key so let your personality shine. (If you are needing a reason to smile, check out Attorney Shaun Kent's Instagram page. Shaun's zeal for life is evident through his fun, but educational social presence). 
Work With A Social Media Marketing Firm
At Green Cardigan Marketing, our team of social media experts manage and promote our clients through all social media platforms on a daily basis. We pride ourselves in closely following social media trends in an effort to help grow our clients brand. Contact us today for a free marketing review to learn how we can help you grow your firm through Instagram.